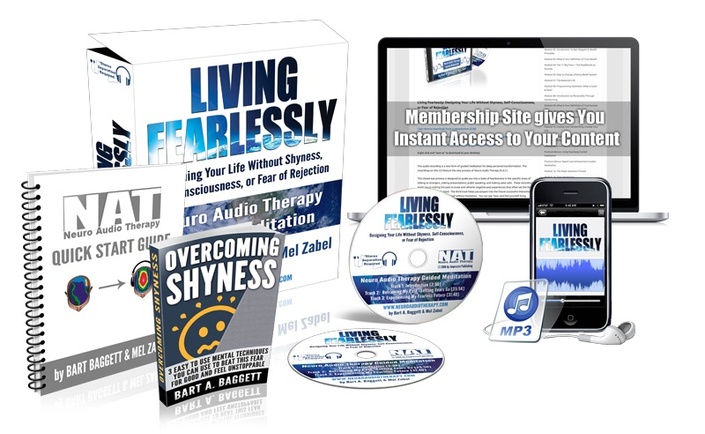 Living Fearlessly Guided Meditations for overcoming shyness and self-consciousness
Designing Your Life Without Shyness, Self-Consciousness, or Fear of Rejection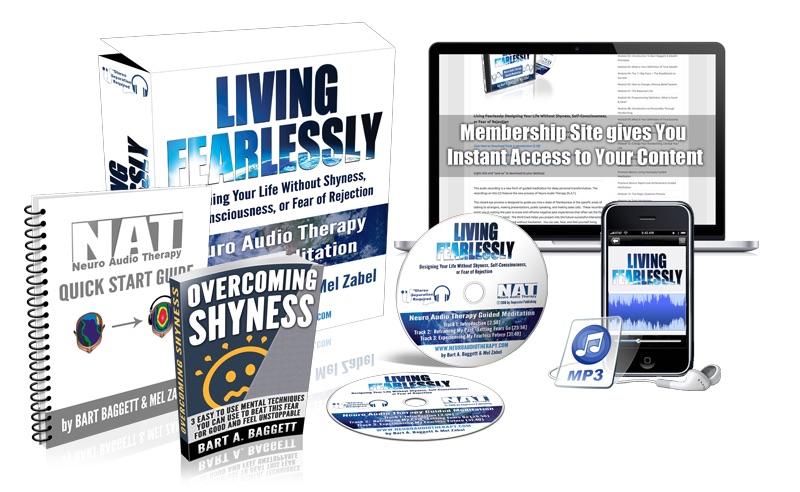 Presenting a brand new audio program by Bart Baggett.
Imagine walking into a room with unbridled confidence...
Imagine speaking in front of people with no anxiety and effortless poise...
Imagine living with no fear of rejection and no shyness...
This is the first-ever transformational program designed to blast through the fears of self-consciousness, fear of rejection, and sensitivity to criticism...

In just a few minutes a day of closed-eye guided meditation.

Designing Your Life without Shyness, Self-Consciousness, or Fear of Rejection.
---
This guided audio recording is much more than a new form of guided meditation and trance-inducing music and beats. This is a tool for deep personal transformation. The recordings on this CD feature the new process of Neuro Audio Therapy (N.A.T.) It's the very best of the language of Neuro-Linguistic Programming, Time-Line Therapy, Guided Meditation, Rapid Alpha State Induction, Grapho-therapy, and Hypnotic language... all rolled into one system.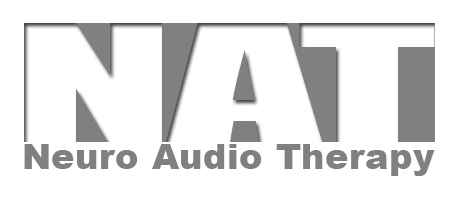 This Audio Program is for anyone who:
• Has an inner voice inside them that hesitates or objects to taking action
• Has an inner voice that criticizes your desires BEFORE you even take that first step.
• Feels that another person won't like you or will make fun of you.
• Feels anxious speaking in front of people or talking to strangers.
• Worries about what other people think.
• Is a counseler, therapist, coach, or grapho-therapist who has a client with this issue.
• Is a parent of any child who fears what other kids think or say.

This closed-eye process is designed to guide you into a state of fearlessness in the specific areas of talking to strangers, making presentations, public speaking, and making sales calls. After the first introduction track, you will start the easy and fun process of following along inside your mind.
The second track is like a self-guided therapy session into your past. You find yourself visiting the past to erase and reframe any negative past experiences that might have been the root cause of today's fears and anxieties.
The third track helps you project into the future successful interactions without fear, without doubt, and without hesitation. You can see, hear, and feel yourself living fearlessly in many situations which used to cause anxiety, stress, and social awkwardness. This program will profoundly change anyone's life and actually is a pleasant experience to close your eyes and listen.
---
Track 1: Living Fearlessly – An Introduction [2:58]
Track 2: Learning From My Past – Releasing Fear Using TimeLine Therapy[25:56]
Track 3: Experiencing My Fearless Future [31:41]
---
Want to hear a short sample. Listen to the 2 minute clip before.

Headphones strongly suggested for the sample and absolutely required when you download the full copy.
Overcoming Fear of Rejection, Excessive Negative Self-Talk, and the Fear of What Other People Think.
This program is designed to build self-confidence while assisting you in diminishing or completely erasing the fear or rejection. This new sense of emotional freedom will apply to both your business and personal life.
The fear of ridicule and self-consciousness is a severe limitation in both career and relationships. The term self-consciousness in this context indicates an excessive preoccupation of what other might think of you and is often accompanied by physical discomfort or hesitation and a feeling of being stuck.
Track1 - Introduction 2:58
Track 2 - Learning From My Past - Releasing Fear 25:56
Track 3 - Experiencing My Fearless Future 31:41
People with this reoccurring emotion invest time into worry and false mental projections about what they don't want to happen. You might have been someone who was excessively concerned that people would not approve of you. Some people feel others look down on them, and that bothers them.
Wouldn't it be amazing to move through life with no concern about the judgment of others? Would it make you feel free and alive to know you are bulletproof to the criticisms and opinions of others?
When you invest mental energy and thinking time wondering what other people are thinking… you are wasting valuable time and energy. This robs your day of energy and time to be manifesting what you do want to happen and create exactly what you really want.
You are listening to track one, which is an introduction. You do not need to listen to this track each time you use this program.
The next audio in the series is designed for you to remember & learn from past experiences which will give your mind new resources to handle future situations with ease and comfort. This "learning from the past" audio is one that you will listen to at least once and you might find yourself using it a few times. The next audio title "Living Free from the Fear of Rejection" is the one you will want to repeatedly use for reinforcement and long-term conditioning.
Once you have completed the first audio, feel free to move on to the second audio and listen to it many times as you gain even more confidence in your interactions with other people.
By repeatedly listening to this recording and following the mental exercises contained here, you will easily and effortlessly change your emotions regarding your ability to ask for what you want and boost overall self-confidence.
Through this audio recording, we are going to help you to overcome this insecurity and eliminate this fear, for good. Your happiness and success will no longer depend on what you imagine other people think of you, or what they say about you.
Finally, you can control the negative voice inside your head and turn it into a positive inner-talk machine.
This program uses Neuro-Audio Therapy.
This closed-eye process is designed to guide you into a state of fearlessness in the specific areas of talking to strangers, making presentations, public speaking, and making sales calls.
These recordings assist you in visiting the past to erase and reframe negative past experiences that often
set the fear into your unconscious mind.
The third track helps you project into future successful interactions without fear, without doubt, and without
hesitation. You can see, hear, and feel yourself living fearlessly in many situations which used to cause anxiety, stress, and social awkwardness.

You have a 100% money-back iron-clad satisfaction guarantee.
Honestly, this program is so much more effective than I could even do on stage with a microphone. The affirmations, stories, and meditations you are about to listen to have all been created using the most advanced positive psychology, brain research, and cutting-edge technologies that will allow you to easily and comfortably make all the necessary changes required to achieve your goals and the ultimate lifestyle.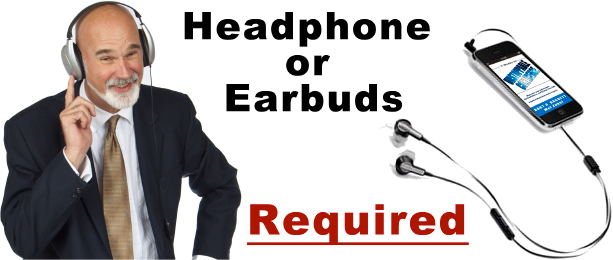 • Headphones are a must.
• A relaxed, undisturbed setting is required.
• And just listen.
• That's it!
---
4 Reasons this Unique Meditation Program is HIGHLY Effective:
---
1) The rhythmic background music and special audio effects.
2) The 3D sound Holosync™ cross-fading recording method that makes you feel like you are sitting in the room with me.
3) Two voices helping change your unconscious which creates a unique listening experience.
4) Powerful NLP based language patterns which bypass your current beliefs and install new ones... Almost automatically.
It takes less than a few sessions toquickly and easily discover a new level of Self Confidence & Reduced fears. You will feel like a weight has been lifted off of you.

We recommend comitting to listening to at least one track a few times a week, for three weeks. But, it won't take 3 weeks to feel different. You will feel more powerful after the very first session.
---
Love it, or get a full refund.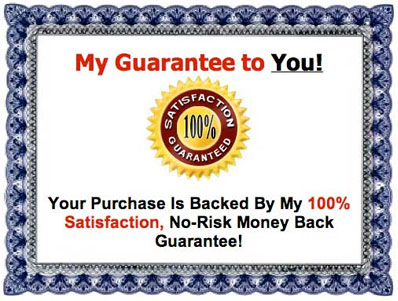 Your Instructor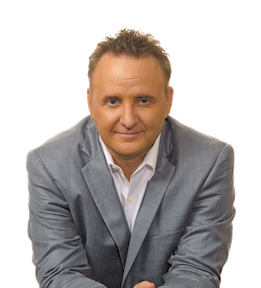 For the past decade Bart Baggett has been known as one of the world's top forensic handwriting experts, internationally acclaimed speaker, and a highly regarded TV legal consultant & expert witness.
He is also a best selling author, entrepreneur, and marketing consultant.
In his spare time, Bart scuba dives with sting rays, does stand-up comedy, and even has appeared in 15 feature films!
Mr. Baggett's strong media background (1500 radio and TV appearances) and charismatic on-camera presence has led him to work side-by-side with news producers, documentary filmmakers, and attorneys nationwide regarding celebrity legal cases and TV shows. You may recognize his face from his frequent appearances on prestigious news networks like CBS, NBC, Fox, and CNN.
Bart has hosted his own radio show and still hosts monthly webinars and tele-classes interviewing celebrities, experts, authors, and other thought leaders who inspire, teach, and make a difference.
He currently works from his Los Angeles-based office, and travels worldwide speaking and training. He has over 10,000 students in India, and thousands more in 20 other countries worldwide who have read his books, videos, or attended live Handwriting University trainings from from Taiwan to Mumbai.
Mr. Baggett's sense of humor and playful speaking style transcends cultural boundaries which allow him to connect with everyone from London's top CEOs, to college students in Pune.
Course Curriculum
First Section
Available in days
days after you enroll
Frequently Asked Questions
When does the course start and finish?
The course starts now and never ends! It is a completely self-paced online course - you decide when you start and when you finish.
How long do I have access to the course?
How does lifetime access sound? After enrolling, you have unlimited access to this course for as long as you like - across any and all devices you own.
What if I am unhappy with the course?
We would never want you to be unhappy! If you are unsatisfied with your purchase, contact us in the first 30 days and we will give you a full refund.