Handwriting University's basic course in handwriting analysis which includes the world famous Grapho-Deck Flash Cards and video instruction from Bart Baggett (Founder of Handwriting University.) This course includes Video, Audio, Books, and Bonus lessons which will expand your knowledge of human behavior beyond anything you have ever read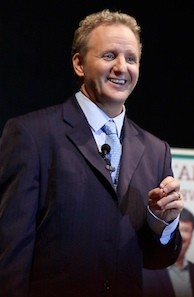 Dear Friend,
Have you ever wondered what someone's handwriting really reveals?
Now is your chance to discover the deep, dark secrets locked inside our unconscious mind through the power of 21st century handwriting analysis.
This system, developed using the past 75 years of research, makes doing handwriting analysis quick, easy, fun, and 100% accurate every time.
Even if you've never read a book or an article on psychology, the mind, or handwriting analysis...after just a few hours studying this course, you will seem like a 20-year veteran handwriting expert.
This simple to use VIDEO, AUDIO, and LITERARY program literally fills your mind with all the tools you need to understand, absorb, and master the BASIC techniques of modern handwriting analysis.
You get these items, and many other bonuses...whether you order the online home study course now available on teachable.com. This "new format" includes all new videos, quizzes, and even allows you to download the video and audio files to your phone or computer for later.
| | | | | | |
| --- | --- | --- | --- | --- | --- |
| | The Grapho-Deck Flash Cards | Full color HD videos | Plus, the entire 101 book on Audio. | | Quizzes |
You will not be confused (as often happens when reading other handwriting books). This course is the most direct, step-by-step training program ever developed to teach the science of understanding, predicting, and helping change people's behavior through handwriting.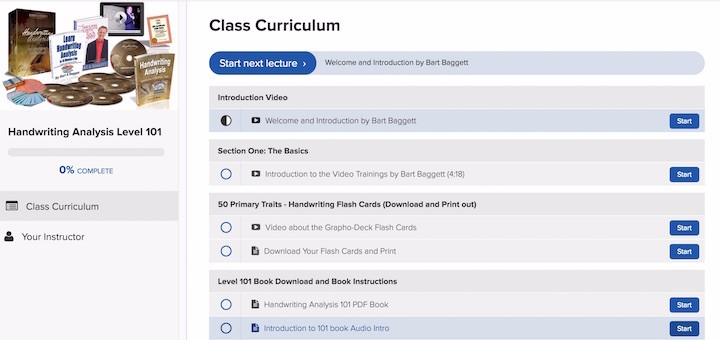 So, it's all there in this new course, "Handwriting Analysis 101 Personality and Transformation Course." What's more, I've added a couple of great bonuses, to help you understand personality, 11 Major Fears, and even how to begin to change the traits you don't want.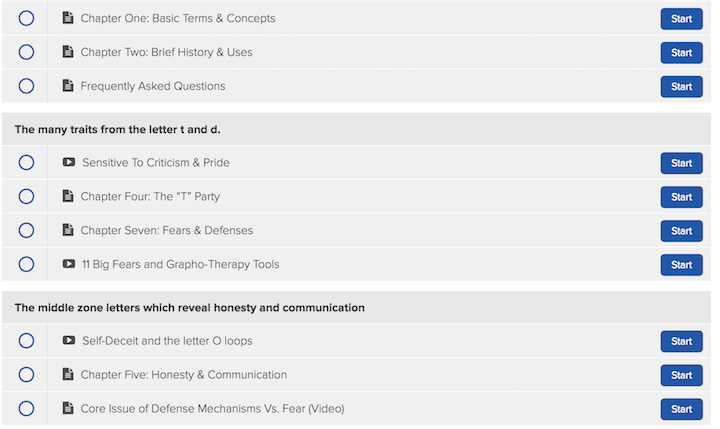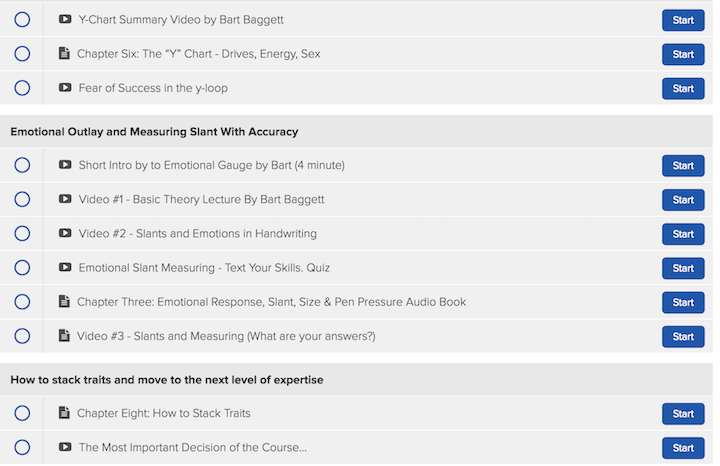 Just scroll down and click on the 'enroll now' button, and you can be listening to, viewing, and interacting with me via video within minutes of purchase.
As a bonus, inside this course, I reveal how you can erase self-defeating personality traits forever. Not only will this course show you how to analyze handwriting, but it even discusses key personality traits to change. If anyone you know suffers from fear, self-consciousness, or low self-sabatoge...the knowledge inside this course will change their lives.